Town Home Page
Located between Indianapolis and Louisville, Edinburgh, Indiana was the first settlement in Johnson County with the first settler arriving in 1820. Edinburgh is easily accessible from Interstate 65 or US 31, and is recognized for the Edinburgh Outlet Mall, and Camp Atterbury military base. Edinburgh offers a small town atmosphere with a variety of amenities including a strong industrial base and specialty shops downtown.
Historical Photos Utility Service Info Text Messaging Program East Main Cross Project Fall Festival Info Holiday of Lights Info
Town Council
Edinburgh's town government is comprised of five council members elected at-large. The term of office for a member is four (4) years beginning on January 1 after the member's election. Members of the legislative body must reside within the town limits.
Two members of the council are voted on annually by the council to serve as Council President and Vice President. The council serves as the legislative and executive branches of government for the town. The council passes ordinances and resolutions, establishes salaries for town employees, passes an annual budget and sets utility rates.
For additional information refer to Indiana Code 36-5-2 regarding town council roles and responsibilities (link to webpage)
---
Town Council -Term & Party
Ryan Piercefield, Republican 1/1/2019 - 12/31/2022
William Jones, Republican 1/1/2019 - 12/31/2022
Jerry Lollar, Independent 1/1/2016 - 12/31/2019
Dawn Graham, Republican 1/1/2016 - 12/31/2019
Jeffrey Simpson, Independent 1/1/2016 - 12/31/2019
---
Clerk-Treasurer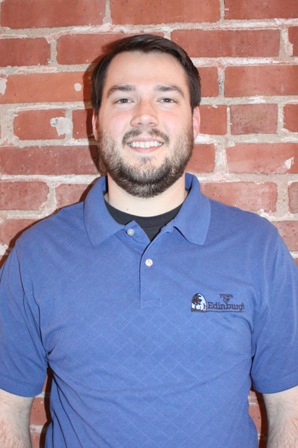 Scott Finley is the elected Clerk Treasurer for the Town of Edinburgh. His term is from 1/1/16 - 12/31/19. The Clerk Treasurer is an elected official and has the same status as any elected official in the State of Indiana.
Administrative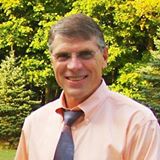 Wade Watson - Town Manager
The Town of Edinburgh administrative offices are located in the town hall at 107 S. Holland Street. Office hours are Monday through Friday, 8:00 AM 5:00 PM excluding some holidays. *
* Administrative offices are closed for the following holidays:
New Year's Day
Martin Luther King Jr. Day
Presidents Day
Good Friday
Memorial Day
Independence Day
Labor Day
Veteran's Day
Thanksgiving Day
Day after Thanksgiving
Christmas Eve
Christmas Day
Holiday's are observed on Monday or Friday if the holiday falls on a weekend.
Building & Zoning
Building Commissioner - Position is currently vacant

The office of the Building & Zoning Department regulates and enforces the town's zoning ordinances. The Building Commissioner is responsible for the issuance of permits for all types of construction or remodeling projects. Other responsibilities of the Building Commissioner include taking care of requests for rezoning and zoning appeals, compliance with zoning use, improvement of unsafe housing, weed control and removal of junk cars.
The Zoning Map and Zoning Ordinances are available online.
Cemetery
The very first Cemetery in early Edinburgh was on the slope of the Thompson hill at the west edge of the little village. Here lie buried Mrs. Joseph Townsend the first white settler to die in Johnson County and Richard Conner their graves forever hidden in the hill which may also contain earlier Indian burials. Other early settlers were buried on the hill, but most were later moved to the newly established Edinburg Burying Ground. The Thompson family plot still remains at the top of the hill its future preservation and obligation of the Edinburg School Board in return for playground property deeded to the school by a Thompson heir the late Mrs. Imogene McEwen.
About 1850 it was decided to establish a new burial ground, and on the 22nd of March 1852, the Trustees of the Edinburgh Burying Ground bought land for this purpose from Alexander and Rebecca Thompson Breeding. The price was $300.00 for four and a half acres this property is now Section A Breeding Addition Rest Haven Cemetery. The notary for the transaction was Charles W. Show, and names of the trustees appearing in the deed are EDMOND MOONEY, JAMES THOMPSON, AUSTIN SHIPP, WILLIAM P. SIMS AND WILLIAM H. MITCHELL.
Electric Department
Welcome to Edinburgh Power & Light (EP&L).We are proud to be your electric provider and strive to meet the needs of our customers by supplying dependable low cost electric service. We are a locally owned municipality governed by the elected officials of the Town of Edinburgh.
EP&L employees are committed to serving our customers 24 hours a day, 7 days a week.Our office staff is available from 8:00 AM 5:00 PM, Monday through Friday to assist with questions or concerns regarding your electric service.
As a member of IMPA (Indiana Municipal Power Agency), EP&L is able to purchase power for the town more economically.
EP&L is also a member of IMEA (Indiana Municipal Electric Association) where we receive line and safety training, as well as, mutual aid.
Fire & Rescue
The Edinburgh Fire & Rescue is a volunteer fire department protecting an area of 35 square miles in the corners of Johnson, Shelby, and Bartholomew Counties and includes service to the Edinburgh Outlet Mall. Edinburgh has a permanent population of 5,000 and a yearly visitor population of over 3 million.
| | |
| --- | --- |
| | |
| Station One | Station Two |
The Edinburgh Fire & Rescue was founded in 1875. One of the early firehouses was located at 107 S. Holland St., the current location of the Town Hall. It housed a horse drawn fire apparatus. In 1962 the Fire Department moved into a new firehouse located at 203 S. Walnut St. on the corner of Walnut & Thompson St. In 1974 the Fire Department started the ambulance service and began transporting patients to the Emergency Room. The Fire Department now operates a 24-hour BLS service utilizing two ambulances and firefighters trained to the EMT level. In 1975 an addition was added to the Fire Station that doubled the size. This addition included offices and additional bay areas. Station 1 now serves as Fire Headquarters. In 1976, concerns over the growing railroad traffic prompted the building of a fire station on the East side of the railroad. Station 2, located off East S.R. 252 at 600 Mary Drybread Ct was constructed using grant money obtained by the Town. In 1991 a local donation supported the construction of an additional 2 bays onto the South end of Station 2.
Parks & Recreation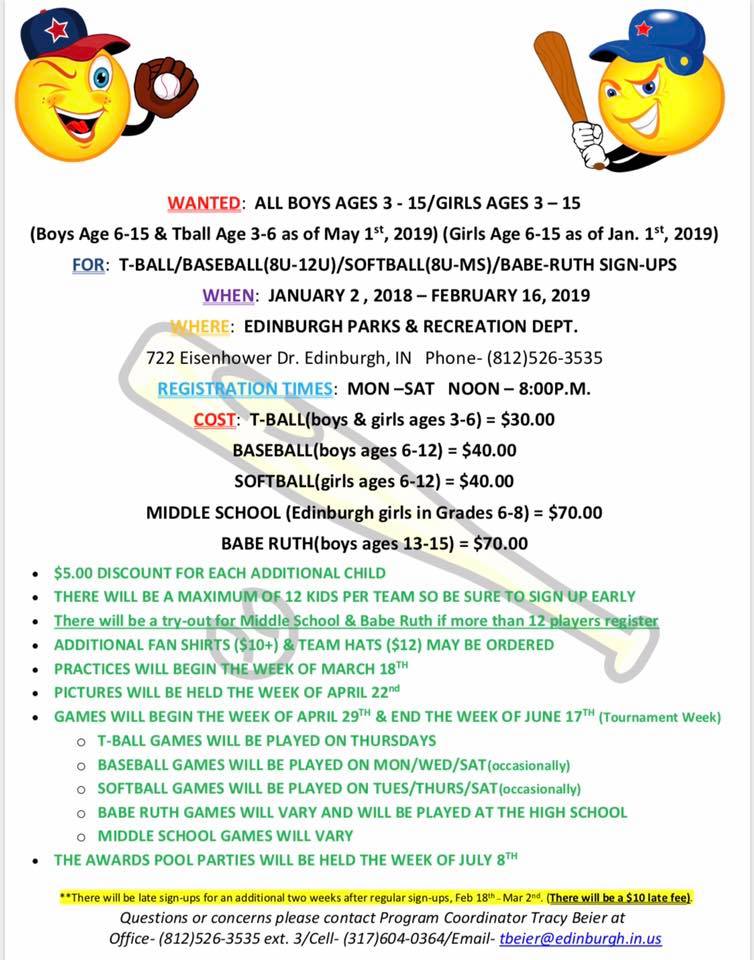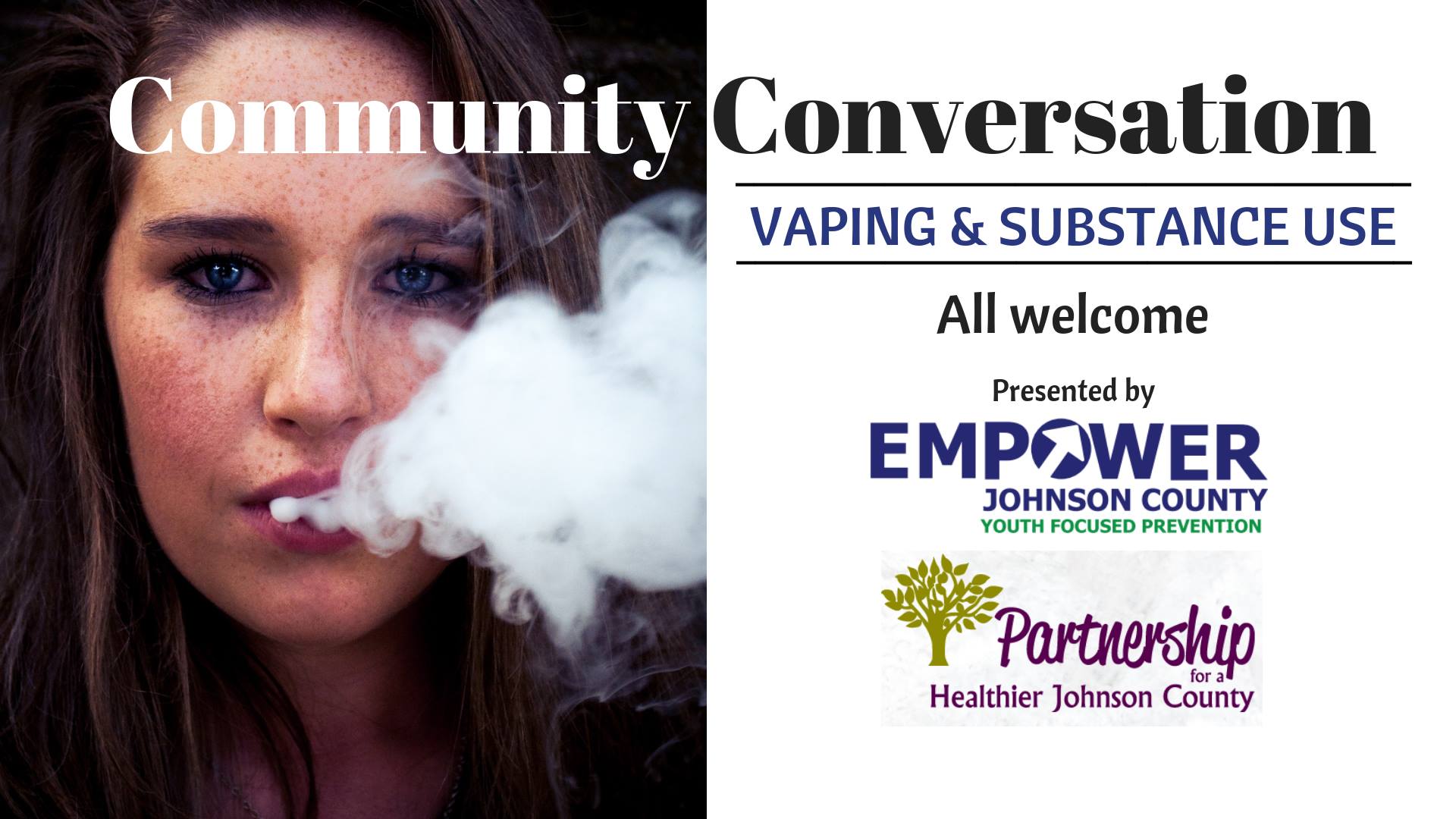 Join the conversation on this important issue.
Tuesday, January 29, 7pm
John R Drybread Community Center
100 E Main Cross St
---
Discover our community!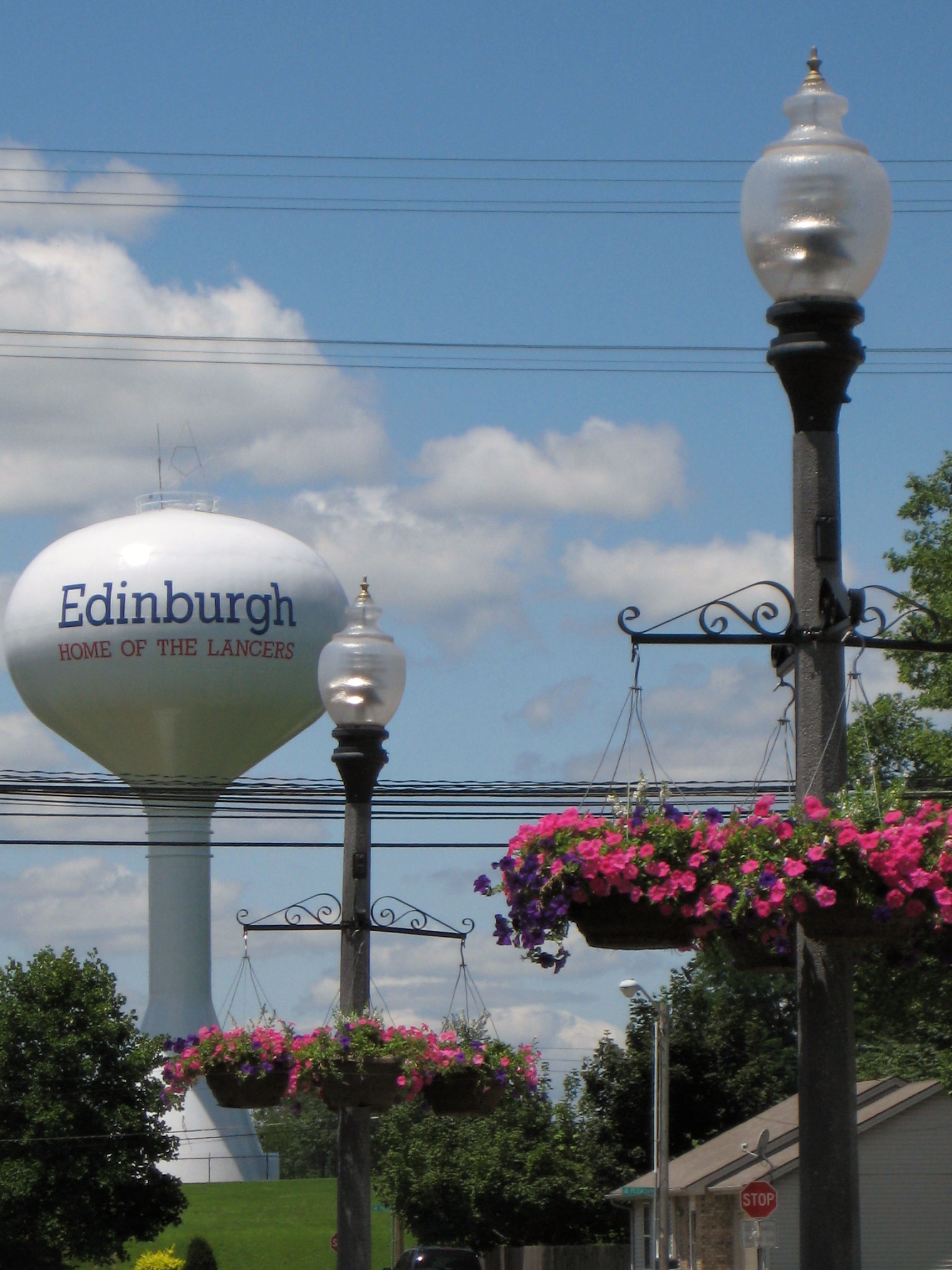 Edinburgh Parks and Recreation is proud to provide multiple locations for our approximately 4,800 residents to enjoy celebrations, play and learn safely, laugh with family and friends, and relax in the beautiful, natural areas our town is honored to share. Whether you live here or are just visiting, give our town and its citizens the opportunity to show you our Hoosier hospitality by spending time and creating memories on our land, with our families, and meeting our individual residents whose personalities make us stand apart from the rest of the state.
Edinburgh Parks and Recreation offers a number of events, programs, rentals, and of course pool access! Our major areas of interest include Irwin Park, Prosser Park, Bryan Park, The Aquatics Center, and The Sports Complex.




Click on any of the related topics on the
left and find what we have to offer!
Police Department
Street Department
The Edinburgh Street Department has many responsibilities, which include paving, repair and maintenance of streets; sidewalk and curb installation and repair; yard waste, brush and leaf collection; snow removal; street sweeping and erecting and maintaining signs.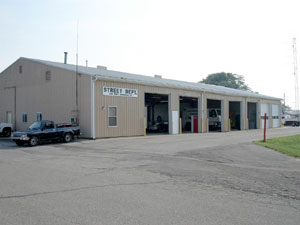 Street Department
The Street Department also conducts an annual heavy trash pick-up for two weeks during the month of July. This pick-up allows the community to put out items that are not picked up on the regular trash route.
The Street Department staff is very diligent in running their department and are here to serve the citizens of Edinburgh.
Utility Office
The Town of Edinburgh Municipal Utilities is a municipally owned electric, water and wastewater utility. Our mission is to provide reliable utility service for our customers at the lowest reasonable cost, as well as, provide dependable electricity, potable water and wastewater treatment.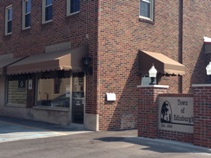 The office is located at 107 S. Holland Street. Individuals wanting to sign up for new services or pay their bill can stop by during regular office hours of 8:00 am 5:00 pm, Monday - Friday closed for lunch from 12:00 pm to 1:00 pm.
We read all residential, industrial and commercial meters once a month. Residential bills are mailed on the 5th of each month and are due by the 20th of the month. Industrial bills are mailed the 5th of the month and due by the 20th of the month.
Payments received after the due date will be assessed with a late fee. If payment in full is not received ten days after the due date, account will be subject to a collection fee and disconnection of service. If a customer has difficulty in paying their bill within the ten day grace period, they should contact the utility office to make payment arrangements. Many options are available for payment, including automatic draft, mail debit or credit card. Cash payments can also be made by visiting the utility office.
Payments are processed on the day we receive it, not the day it is post marked or the day you paid it online through your bank. Therefore any applicable late fees and non payment penalties will apply if it is processed after the due dates and these fees will not be waived.
Waste Water Department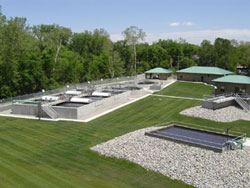 The focus of the Town of Edinburgh Wastewater Plant is to provide un-interrupted services to its customers and to discharge the cleanest water possible to the states receiving streams. This objective is met by a diligent maintenance program
The Town of Edinburgh currently operates a Class III, 1.5 MGD extended aeration treatment facility consisting of (2) vertical loop reactors, an in-channel grinder, grit/fine screening, two (2) secondary clarifiers, ultra-violet light disinfection, influent/effluent flow meters, a 9.0 MGD two-celled surge lagoon, and cascade post aeration.
Edinburgh's collection system consists of fifteen (15) lift stations, 4.16 miles force main, 3.76 miles storm sewer, 11.18 miles sanitation sewer and 12.53 miles of combination sewer for a total of 31.63 miles of conveyance. We also operate a significant number of dry wells. The Town of Edinburgh currently implements a (CSOOP) Combined Sewer Overflow Operational Plan this means we currently have a maintenance program in place that insures that there is periodic maintenance performed throughout the collection system.
Looking for the Town of Edingburgh Design Criteria?
Water Department
The Town of Edinburgh relies on groundwater to supply drinking water to approximately 5,000 customers in and around the Edinburgh area utilizing water from one well field.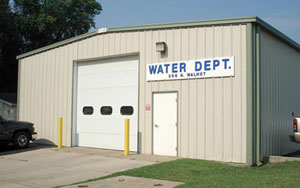 Water quality is our top priority. All the water we deliver to the customer meets or exceeds strict standards for public drinking water established by the U.S. Environmental Protection Agency. We collect thousands of water samples each year and send them to highly trained state-certified laboratories to be analyzed. We work hard every day to make sure you have a refreshing and steady supply of water every time you turn on the tap.
TURNING YOUR WATER ON
To apply for water service please visit the utility office located at 107 S. Holland Street, to complete a service application and pay a meter deposit of $50.00. Water service requests completed by 2:00 PM will have same day connection and requests after 2:00 PM will be connected the next business day. Once service has been requested, a service call will be scheduled to read the meter and start billing with an actual meter reading. It may be necessary for a utility representative to enter your home or business to read the meter. An adult should be present when our utility representative comes to connect your water. Before your water is connected, please check to ensure all water outlets, both inside and out, are turned off to prevent water damage, which could occur from open faucets. If you are applying for service at a home or business that is not currently connected to our system, please contact our office staff at 812-526-3514.
TURNING YOUR WATER OFF
Please visit the utility office located at 107 S. Holland Street when you are ready to have your water service disconnected. Advance notice allows us time to take a final meter reading and ensure that you are only charged for the water you use.
UNEXPECTED WATER PROBLEMS
Should you experience a water leak, frozen water line, or other unexpected disruption of service, please be aware the property owner will be responsible for any necessary repairs to the water lateral existing on the property side of the metering pit. In order to expedite diagnosing where the problem may exist, property owners and residents should familiarize themselves with their water service equipment, shutoff points and where any service lines may exist on your property. (See
FAQ
page for more information)
Edinburgh Police Department