Fire & Rescue
The Edinburgh Fire & Rescue is a volunteer fire department protecting an area of 35 square miles in the corners of Johnson, Shelby, and Bartholomew Counties and includes service to the Edinburgh Outlet Mall. Edinburgh has a permanent population of 5,000 and a yearly visitor population of over 3 million.
| | |
| --- | --- |
| | |
| Station One | Station Two |
The Edinburgh Fire & Rescue was founded in 1875. One of the early firehouses was located at 107 S. Holland St., the current location of the Town Hall. It housed a horse drawn fire apparatus. In 1962 the Fire Department moved into a new firehouse located at 203 S. Walnut St. on the corner of Walnut & Thompson St. In 1974 the Fire Department started the ambulance service and began transporting patients to the Emergency Room. The Fire Department now operates a 24-hour BLS service utilizing two ambulances and firefighters trained to the EMT level. In 1975 an addition was added to the Fire Station that doubled the size. This addition included offices and additional bay areas. Station 1 now serves as Fire Headquarters. In 1976, concerns over the growing railroad traffic prompted the building of a fire station on the East side of the railroad. Station 2, located off East S.R. 252 at 600 Mary Drybread Ct was constructed using grant money obtained by the Town. In 1991 a local donation supported the construction of an additional 2 bays onto the South end of Station 2.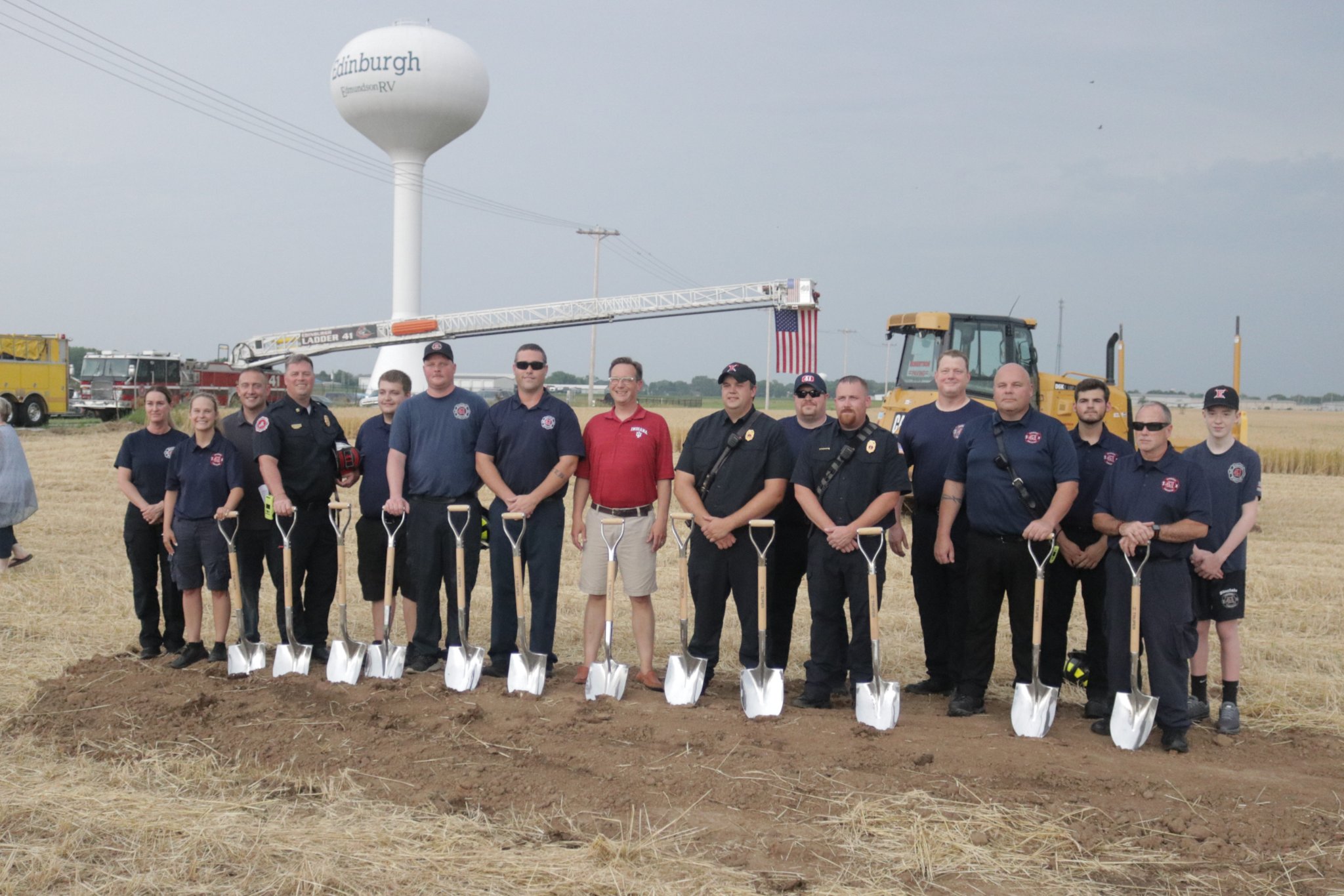 Groundbreaking for Fire Station on County Road 900 North.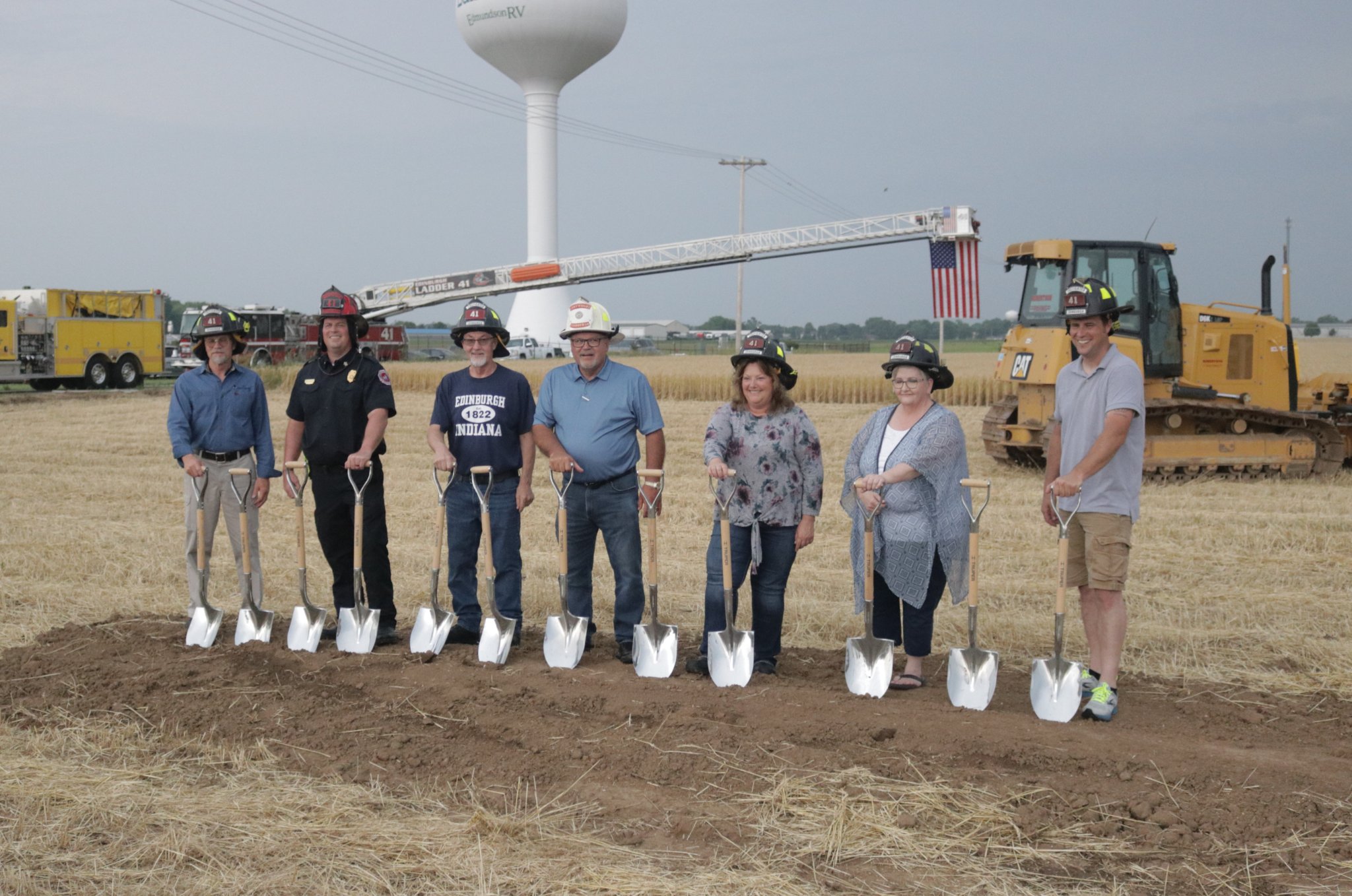 Fire Station Groundbreaking on June 13, 2022. L-R: Wade Watson, Chief John Henderson, Councilman Jeff Simpson, Town Manager Dan Cartwright, Councilwoman Debbie Buck, Councilwoman Miriam Rooks, Council President Ryan Piercefield.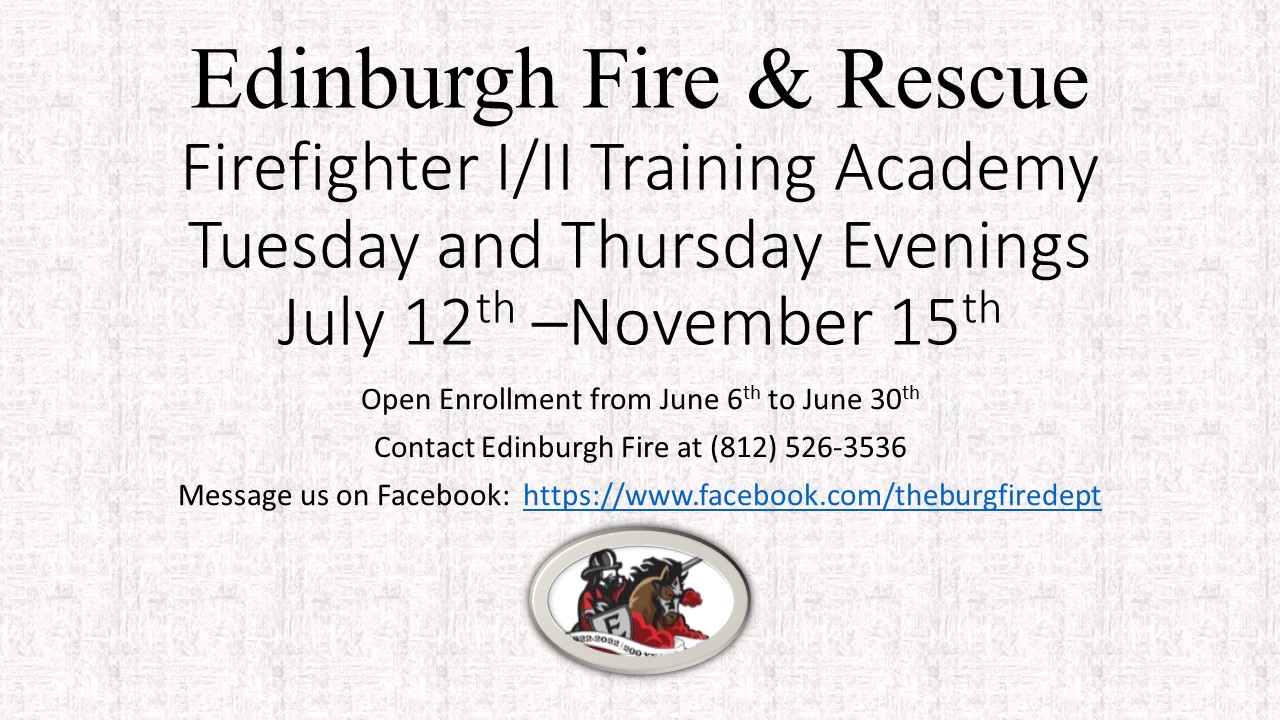 The firefighter I/II Class is the fundamental basic education that the State of Indiana supports. The Student is exposed to the full spectrum of Fire Service Duties and Skills. A comprehensive skills test and written test secure your certification. The Candidate will have to perform such skills as deploy ladders, hoselines, and forcible entry tools. There is an introduction to all hazards response and vehicle extrication. The demands of the Fire Service are both physically and mentally challenging. The class is designed to give the candidate the knowledge they need to succeed.
Follow Edinburgh Fire & Rescue on Facebook!
--> Fire and Rescue Facebook Page
Up-to-date Weather Information
Local Weather - National Weather Service

Current Local Radar - National Weather Service

Please click here for the Town of Edinburgh Code of Ordinances.
Contact Us
Physical Address
203 S Walnut St
P.O. Box 55
Edinburgh, IN 46124
Physical Address
600 Mary Drybread Ct
Edinburgh, IN 46124
More Information
Find content and services related to this page.